Hon. David McGuinty
Member of Parliament for
Ottawa South

COVID Alert: Exposure Notification App
July 31, 2020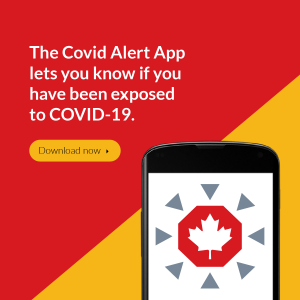 The Government of Canada, in collaboration with other orders of government and across sectors, has developed a new nation-wide mobile app to let users know if they may have been exposed to COVID-19.
The app, called COVID Alert, is available to all Canadians for free download, in the App Store and Google Play.
The app uses strong measures to protect the privacy and confidentiality of any data it collects. The app does not track a user's location or collect personally identifiable information.
COVID Alert is another tool Canadians can use to help slow the spread of infection, prevent future outbreaks, and protect our communities as we ease restrictions and restart the economy.
While the exposure notification app is voluntary, the more Canadians who use it, the more useful it will be in protecting our loved ones and limiting further infection.
During this first phase, people in Ontario who get a positive COVID-19 test result will be given a one-time key from health authorities in Ontario.
When the one-time key is entered in to the app, COVID Alert will notify other users who may have come in close contact with that person.
The government is working with provinces and territories to have COVID Alert implemented in all jurisdictions so that all Canadians can benefit from the exposure notification app. The timeline for implementation will depend on the circumstances and contexts in each jurisdiction.
COVID Alert is just one tool among a suite of tools and guidance being used by the Government of Canada to help slow the spread of COVID-19.
The Government has created the COVID-19 Exposure Notification App Advisory Council to provide advice and guidance as the mobile app is rolled out across the country.
Main office - Ottawa
1883 Bank Street Unit A
Ottawa, Ontario
K1V 7Z9
Hill Office
House of Commons
Ottawa, Ontario
K1A 0A6